I've been a follower of
MimiandTilly's
blog for a while now and when she came up with the brilliant idea of posting about her Favourite Things on a Friday and asked for people to share theirs, I jumped at the chance !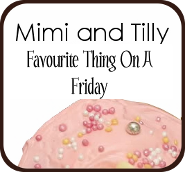 There are quite a few of us so hop on over and have a look see ! ...........
Here's mine for this week :0)
Finding a nice little tea room that you didn't know existed .....
that also sells lots of goodies as well as .............
the most beautiful home made victoria sponge and a bottle of ginger beer .......
plus a comfy chair to sit on .......... what more could two girls want who've just returned from the Dentist !
We're off on holiday to search out the Beast of Bodmin Moor tomorrow so have a good week fellow bloggers !
I look forward to catching up with everyone when we get back xxxx